In a previous post I asked, "Is the MDE cheating on M-STEP?"  after learning that the Michigan Department of  Education (MDE)  recklessly spent $4.9 million on SBAC membership fees in order to obtain the questions for the "new" M-STEP.  Not only is the MDE purchase against the current budget signed last year which mandated a new MEAP and a halt to the transition to SBAC, the membership fees were ruled  "illegal" by a Missouri judge.
And what did we get with our $4.9 million?  Take a look at a sample fifth grade question found in the M-STEP powerpoint created by Robyn (Seifert) Decker at Ottawa ISD.  M Step ppt
(For readability, click picture to enlarge.)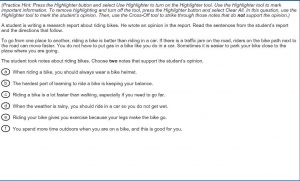 This question is a joke!  Apparently a & b should be stricken and the phrase, "riders on the bike path next to the road can move faster" highlighted but honestly I found the whole thing confusing.   I can only imagine the frustration a fifth grader would feel.
What are students learning with all this crossing, highlighting, and clicking?  After taking a sample test, a student group was asked:  "What would your friends and students in other classes need to know in order to be successful with this online test."  Their responses, taken from the same power point, revealed that it isn't actual knowledge that makes a student successful on this test:
"The bubble in the straw is VERY important"

– Ethan, grade 3

If the blinky line isn't in the box  where you want your words to go,  you can press the letters all you want….. words won't appear.
– Brittney, grade 3

"I thought it was confusing that the computer let you to click on more than one answer. You had to be careful to unclick when you changed your mind or you could put in two or three answers to one question."

– Ben, 11th grader
Yes, parents your student may be an excellent writer or able to calculate complex equations in their head, but if they don't get the blinky line in the box or remember to unclick a different answer they will likely fail.  But no worries the teachers are forced into wasting precious classroom time and  practicing every day to make sure your student knows how important the bubble in the straw is to their success.
Parents, opt-out your kids out, the M-STEP is an insult to their intelligence and a worthless waste of time.
M-STEP is a joke.
Please Read: Six Reasons Why You Should Opt-Out of M-STEP and then print out the Thomas More opt out form and take it confidently to your school.  Tell them your children will not be taking the M-STEP this year.