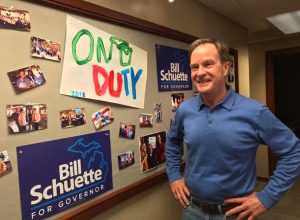 On September 12, 2017, MI Attorney General, Bill Schuette, also a Republican candidate for Governor, made some important remarks that will help us evaluate his ability to lead the state in education policy.   He said:
How do we judge a leader's ability to achieve results?  The test of leadership is not what you say, but what you do….As your attorney General, I have a record of accomplishment  My actions match my words."
What is Schuette's record of accomplishment in education as Attorney General? Has he achieved any big results?  Let's take a look behind the rhetoric and evaluate his actions.
A critical responsibility of the Attorney General is to offer an opinion on questions of law.  We understand that Schuette was asked to issue an official opinion on parental rights in public schools by at least two current state legislators.  The essence of the issue is whether or not parents have the right to opt children out of the state assessment and other practices they find objectionable. This includes the right to opt out of reading materials, including those that are clearly sexually charged or otherwise offensive. Parents have been bullied into believing they have no rights in public schools however the Michigan school code explicitly states:
Michigan's Revised School Code includes a clear statement about parental rights in relation to their children:
Michigan – THE REVISED SCHOOL CODE (EXCERPT) Act 451 of 1976 380.10
Rights of parents and legal guardians; duties of public schools. [M.S.A. 15.4010 ] Sec. 10. It is the natural, fundamental right of parents and legal guardians to determine and direct the care, teaching, and education of their children. The public schools of this state serve the needs of the pupils by cooperating with the pupil's parents and legal guardians to develop the pupil's intellectual capabilities and vocational skills in a safe and positive environment. History Add. 1995, Act 289, Eff. July 1, 1996
No opinion has been made public by the office of Attorney General Schuette.
As the Attorney General, defending the Michigan Constitution and Michigan Law is an important job. Will AG Schuette defend parental rights in K-12 public schools?    Remember, his test of leadership is NOT what they say but what they do.
We eagerly await Attorney General Schuette's opinion.    This hasn't stopped Schuette from telling us what he will do as Governor.
During his announcement speech for Governor, AG Bill Schuette shared his educational platform by promising he will:
– make sure every third-grader can read,
– end common core, and
– prepare students for skilled trades.
He said, "And as governor, I will fight president Obama's federalization of our local classrooms and end Common Core."
These are definitely popular promises to make about education policy. Pretty much everyone thinks Third-graders should be able to read and Common Core should be repealed. Advocacy for skilled trades' education is a current hot trend. Promises are easy, and slippery, as we all know.   But remember his test for leadership is not what you say, but what you do.
The Michigan Legislature passed a bill that will hold back Third-graders who cannot read at grade level as their policy idea. This law is problematic in many regards, with no evidence it will actually improve reading outcomes. Has Attorney General Schuette offered an opinion or action on this policy?  Does this law violate local control in Michigan?   We don't know what he thinks on the matter.  Like the parental opt out law, Schuette he has offered no public opinion on this matter.
One may think that Schuette is shy about offering his opinion on education policy.  However, Schuette had no problem offering an opinion on the appointment of Betsy DeVos as Secretary of Education.  Schuette called DeVos the "right choice" for U.S Secretary of Education in his Detroit News Op/Ed.   Secretary DeVos has been a major supporter of Common Core in Michigan and has done nothing to support its repeal.   Additionally, Secretary DeVos rejected Michigan's Education Plan, submitted as part of the Every Student Succeeds Act (ESSA) until the State Board acquiesced to her demands. ESSA passed under President Obama, but Secretary DeVos is clearly using the law to further federal control of our local schools. AG Schuette has indicated he opposes federal intervention in education, but has he offered an opinion or action on DeVos's decision regarding ESSA?
AG Schuette indicates he opposes Common Core but has not offered an opinion or used his political influence to support its effective repeal.
In summary, candidate for Governor Schuette's platform on education policy is weak on action. We encourage him to use this year before the election to act on these important issues and give voters confidence that his campaign promises are real, not slippery. Take actions that match the words.   After all Schuette told us,
"How do we judge a leader's ability to achieve big results? The test of leadership is not what you say, but what you do,"