Endorsements matter.  They are significant both financially and politically.   In this post I highlight two lobby groups, Great Lakes Education Project (GLEP) and Students First and discuss the impact they have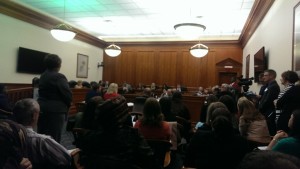 on educational freedom and Michigan elections.
Pro-Common Core is against educational freedom.   An anti-Common Core candidate getting the GLEP or Students First endorsement is the equivalent of an anti-abortion candidate getting a Planned Parenthood endorsement.   Voters are starting to learn this and are asking the candidates about the endorsements.
Great Lakes Education Project
In our Election 2014: Roll Call on the Common Core we highlight candidates who are against the Common Core but endorsed by Great Lakes Education Project (GLEP).   We believe that there is a correlation between a GLEP endorsement and future votes.  See the post:  Who is GLEP and why their endorsment matters.
Common Core is part of a larger P-20 education reform package that also includes a third grade reading exam, kindergarten assessments, computer adaptive testing, and tracking student growth for career readiness.  Many of these initiatives will require passage in the legislature.  GLEP supports many of these and works against us in the fight for true educational freedom and parental choice.   Common core locks parents and students into a system that says, "Whatever the state and DeVos want they are going to get."
Candidates have gotten some push-back from voters asking about the GLEP endorsement.
A candidate who is against the Common Core but also received the GLEP endorsement wrote the following explanation:
Statement about GLEP and Common Core: I recently received the GLEP endorsement for my campaign. GLEP has traditionally been a voice for education freedom and good schools. They are supportive of Common Core, which I am not. They are aware of my stance and did not use support of Common Core as a litmus test, but rather a broader desire for education freedom and choice, in making their endorsements.

As for my position on Common Core, we held an anti-Common Core town hall a few months ago and I have been an outspoken critic. I will continue to fight Common Core if elected. I sought the endorsement because of their work with school choice and education freedom. They are well aware that we disagree on Common Core and I hope to help them see how Common Core hurts education freedom instead of raising standards. The real battle over Common Core isn't in this endorsement, it is in the next few years as we work to defund Common Core and free Michigan from federal control of education. I want to work towards that goal and I hope you will work with me.
The statement is a bit confusing. While the candidate acknowledges that GLEP has traditionally been for educational freedom she hopes she can convince them to see how Common Core hurts educational freedom. To me, that would indicate that GLEP has broken from their tradition and is no longer really for true educational freedom.

She also believes she can influence GLEP for good. I hope so and I don't doubt her sincerity. But what she is asking us to believe is that a lawmaker will be able to convince a lobbyist to change sides after the lobbyist has endorsed her and helped her get elected. I'm sure it's possible but how often does that actually happen  She may be successful but I hope she has room on her payroll, because GLEP staffers will be out of a job.

So why seek and endorsement from an organization like GLEP that is pro-cc and against educational freedom? It makes no sense.
Students First

Students First is relatively new to the electoral endorsement game but founder Michelle Rhee is no stranger to Michigan lawmakers.   She attended the Mackinac Center Policy Conference last year and rallied lawmakers to support Common Core. 
"The vast majority of states have adopted the standards. I've heard some recent rumblings from folks who say we don't like it when the federal government is telling us what to do. We don't like that. You know what you should not like? The fact that China is kicking our butts right now," Rhee told attendees. "Get over feeling bad about the federal government and feel bad that our kids are not competing."
Students First is a lobbying machine in education reform working in state legislatures across the nation to transform education.     This tweet after teacher evaluations demonstrates the influence of Students First on Michigan lawmakers.
Our StudentsFirst members got to thank Rep. Margaret O'Brien for her work on teacher evaluations. #MiLeg #edchat pic.twitter.com/fFmRtreK2o

— StudentsFirst MI (@StudentsFirstMI) May 14, 2014
Teacher evaluations tied to "student growth" are integral to the Common Core. O'Brien is one of the co-sponsors for HB 5223 and HB 5224. Students First is the lobby group headed by Michelle Rhee. Teacher evaluations are one of Rhee's goals and wants "all teachers to be evaluated in large measure by how much they can boost their students' scores on standardized tests." 

Our children are more than a test score and pushing teacher to be evaluated in this way will force them to teach to the test!  That's not educational freedom!
In the past, Students First has poured big money into the Republican coffers to get her way.   Merecedes Deutsch did an expose on the Students First and noted that they gave $40,000 to the Michigan GOP Admin Fund in 2011.   She notes,  "SF inserts itself in local political races by sending cash to reform-friendly candidates. As such, SF is doing its best to purchase democracy." No doubt some Michigan lawmakers hope to cash in on their votes, if they haven't benefited already.
I'll be writing more about both GLEP and Students First as the summer election cycle heats up. But it is time we stop the money machine and tell candidates and lawmakers our children and schools are NOT FOR SALE!   Candidates must be against Common Core in word and in deed.   We encourage candidates to opt-out of endorsements from groups that lobby for the common core and work against TRUE educational freedom.   If they can stand up to them before the election we can reasonably trust that they will stand up to them after the election.
Please see the post:  Election 2014:  Roll Call on the Common Core.  Find out where your candidates stand!