Update:  The Michigan Competitiveness Committee is scheduled to hold another hearing this Wednesday at Noon in the Anderson Building room 510.  Please contact Committee Chair Lee Chatfield and tell him to pass HB 4192 out of committe. Common Core is more than just standards. We cannot let lobbyists and special interests drown out our voice.
Email: LeeChatfield@house.mi.gov
On February 15, the Michigan Competitiveness Committee chaired by Rep. Lee Chatfield held its first hearing on HB 4192 to repeal and replace Common Core, science, social studies, and assessments.  The hearing room was packed to overflowing with parents and citizens supporting the bill.
Rep. Gary Glenn, sponsor of HB 4192, and Melanie Kurdys did an excellent job of detailing why the standards need to be repealed and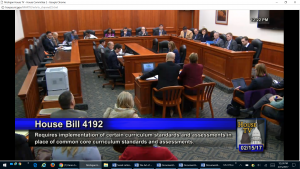 replaced with the pre-Common Core Massachusetts's standards.  State Board of Education members Nikki Snyder and Tom McMillin also testified in favor of the bill.
As expected the Michigan Department of Education and the business community sent representatives to the hearing to oppose HB 4192.  Their opposition focused on the cost of the repealing common core and the lost data if we abandon Common Core.   Oddly, one representative from the Michigan Department of Education argued that we need to retain Common Core to provide "consistency" in school choice.   This is illogical.   McDonald's has consistency across the state. Choice allows us to go to Taco Bell with a completely different menu.   If every school adheres to the same standards in education and children assessed on them, true choice is not possible.
A representative from West Michigan Talent Triangle spoke in opposition to the bill.  He was worried about what happens when education gets politicized.   But that is an argument in FAVOR of the bill because it returns control back to local districts.   I worry just as much when business leaders think our children are a commodity for their profit and their data collected.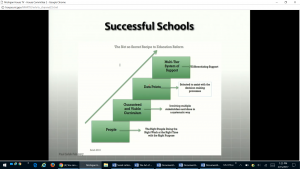 The most revealing statement came from Dr. Paul Salah, from Wayne County RESA.  He said,
"The Common Core is much more than just standards."
I was glad someone finally admitted what we've known for a long time.  The Common Core is a necessary component of a larger reform to transform our state into a P-20 centralized education system from cradle-to-career.  The slide at right identifies the "not so secret recipe for education reform."   It becomes clear that the "successful school" is one that has viable curriculum which allows for the collection of data to drive the decisions about each student.
Kevin Stotts, a representative of Talent 2025 testified in opposition to the bill.  He said,
"Michigan has high standards today," Kevin Stotts, president of Talent 2025, a West Michigan business group, said. "It doesn't matter that we have low education performance. That's not an indication that we have the wrong standards." (Source quote: Gongwer)
So if low-performance doesn't matter we must ask what is the goal of education?
The draft of the Michigan Department of Education's consolidated plan under ESSA makes the goal very clear,
"Michigan will also provide technical assistance and guidance on developmentally appropriate practices for early childhood as well as early elementary grades. The ultimate goal is to ensure access to a system of high-quality learning settings across the P-20 continuum."
A P-20 seamless education system centrally controlled has been the goal all along.  It's time to stop their data tracking scheme for workforce development. The goal is to have the P-20 infrastructure reforms complete by 2025.  (See Talent 2025 for more details.)
Passing HB 4192 is the first step to dismantling their "recipe" for education reform.  It is a recipe for control over our children from cradle to career to meet the demands of business.
Contact the following lawmakers and tell them to vote YES on HB 4192
AND committee members: