(Note: This post is lengthy but necessary to understand HB 4192 and why common national standards must be repealed and replace.)
In his testimony before the House Competitiveness Committee on HB 4192  to repeal and replace Common Core, science, social studies and assessments, Paul Salah from Wayne County RESA, said,
"The Common Core is much more than just standards."  (Video archive here.)
What does that mean exactly?
The Common Core Standards, released and adopted in 2010, were the catalyst to a fundamental transformation in education in our state and the country.  One aspect of the transformation that is relatively unknown to most people is how data relates to learning.  House testimony against HB 4192 maintained that Common Core must be retained so that the state has the data it needs.   West Michigan Talent Triangle, Talent 2025, and others argued that Common Core cannot be replaced becau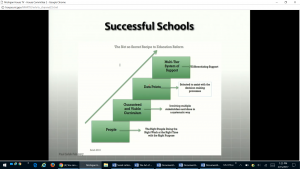 se valuable data would be lost.
Why does repealing a set of standards result in the loss of data?
Because "The Common Core is much more than just standards."
What makes Common Core different?  The data codes associated with each standard are UNIVERSAL and used by every state that adopts them.
Blogger Peter Green asked a very helpful question in an article published at the Huffington Post, "Are Common Core Standards really data tags?"   Green wrote,
"If we all just taught to our own local standards, the data noise would be too great. The Data Overlords need us all to be standardized, to be using the same set of tags. That is also why no deviation can be allowed. Okay, we'll let you have 15 percent over and above the standards. The system can probably tolerate that much noise. But under no circumstances can you change the standards — because that would be changing the national student data tagging system, and THAT we can't tolerate.
Common Core State Standards, Next Generation Science Standards, C3 Framework for Social Studies Standards, and any future standards in other subjects are the explicit learning objectives.  Each objective has a numerical code assigned to it.  The competency-based educational system is based on measuring core competencies through curricula and assessments leading to digital badges and credentials to validate their learning.
Universal data badges and credentials demand a common universal standard.
In 2011, then Secretary of Education Arne Duncan gave a speech "Digital Badges for Learning."  He said,
Badges can help speed the shift from credentials that simply measure seat time, to ones that more accurately measure competency. We must accelerate that transition. And, badges can help account for formal and informal learning in a variety of settings.
The connection between standards and digital badges is essential to understanding how a student progresses along the P-20 education system.  (Read more at Alliance for Education Excellence)
Data codes are associated with digital badges and awarded to the student upon mastery of a specific standard.  These codes are NOT unique Michigan codes but common to any state that adopts the standards.   This allows any digital badges and credentials to be portable and recognized across state lines and paves the way for a national education system from P-20.   Common standards proponents say that standards will not determine curricula but that is NOT true.  Common data codes and badges insures that curricula will be strictly aligned, taught, and tested.
In his first term, Governor Snyder said,
"I want to emphasize a vision of P-20.  A PRENATAL to life long learning.  We have to get beyond the old models of saying there are silos for  for K12,  silos for community college, for higher ed,  for preschool.  They shouldn't be separate.  They can be separate institutions.  not to threaten the institutions. But shouldn't we make it a seamless system.  Where a student in that system doesn't have to figure out all these tough choices but can just focus on success…and understanding it starts even at the prenatal stage and looking at is the expectant mother getting the right diet, the right primary care…"
As students travel the "seamless" P-20 system and meet core competencies or strands of the common core, next generation science standards, or social studies standards they are awarded digital badges. "The badges themselves are graphical representations of an accomplishment – basically the digital version of a felt patch a Boy or Girl Scout might earn."  (Source: Inside Higher Ed)
The Michigan After-School Partnership, which will work with other organizations, including the Michigan Department of Education, to pilot STEM-themed badges for students and staff in out-of-school time programs
In the fall of 2014, Michigan proposed the first STEM credential in the country. We opposed the credential because it creates a defined career pathway for students to meet workforce demands.   The bills (HB4284/4285 and SB 169/170)  are died in the Committee on Workforce and Talent Development.  But the idea is still alive and well.
Common Core is more than just standards.
Education reformers believe that digital badges will allow a student to pave their own learning pathway.  That is not accurate when each brick in their learning pathway is tied to a code determined by common standards and leads to a career credential defined by a regional workforce committee.  More "choice" and "competition" are just the current buzzwords to erode choice and local/parent control.
West Michigan Triangle readily admits it on their webpage.
If more choices were the answer to improved student achievement, Michigan would immediately become a Top 10 performer among all global entities, because there are few places in the world where families have more choice among their traditional public schools, charter schools, private schools and online entities than Michigan.

Improved student achievement requires the absolute best teachers in the classroom, students who are engaged, and families who are involved and informed about the career opportunities available for their children. New schools and parallel administrative structures are not the answer.

We in West Michigan know the answer well, because we model it in virtually every public-private partnership in which we participate. The answer is working to identify the gaps between student preparation and employer/post-secondary preparation, and working together to identify ways to bridge those gaps. We also must make students and their families aware of the opportunities in our region, and build both a knowledge base and enthusiasm for the opportunities available.
A student's dreams NOT their data should make the "tough choices" and determine their future.  
Michigan parents must fight to retain control over their child's education or lose control over their future to educrats who will determine their future career pathway based on data and workforce demands.