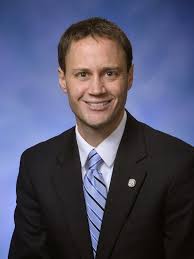 I received an email from Michigan House Speaker Tom Leonard encouraging people across the state to "Like" his Facebook page, read his information, share our own thoughts, and help hold him accountable.   He wrote,
"I greatly value your input and appreciate your ideas to make Michigan an even better place to live. So, please keep them coming.

One thing I hear over and over is that Michiganders are tired of smooth talking politicians who often make great promises, but rarely follow through.  I try every day to keep my word and do what I say, and I want to be held accountable. I'm proud to lead an outstanding group of legislators in the Michigan House who share our conservative values and our passion for getting things done. "
Speaker Leonard's email went on to outline his "top priorities" which include:  Charitable Gaming Reform, Optional Pistol Registration and Second Amendment Rights, Sanctuary Cities, and Protecting Religious Liberty.   All of which are important issues but missing among the list is repealing and replacing Common Core.  Why?   Repealing and replacing Common Core is part of the Republican platform and a huge part of President Trump's campaign.   Michigan voters clearly want Common Core out of our state.
I "liked" his Facebook page and left a comment asking him about Common Core.  It was never posted.  So I'm going to post my questions here in forum that I can control.
Speaker Leonard in a previous interview you stated,
Reporter Mike: (Inaudible question about repealing Common Core)

"I am one who has been a strong opponent of the Common Core standards.  I am one who voted against the Common Core resolution that was voted and passed out of the House three or four years ago.  I have not had an opportunity to sit down to review with Rep. Glenn this legislation. I will do so if it passes out of committee.  I am certainly an opponent of the Common Core standards and we'll see where this goes.

Reporter Mike:  And replacing them with Massachusetts?

Speaker Leonard:  Again, we'll let the committee do their work and we'll see what that standard is.   I am a strong proponent of (inaudible) repealing Common Core in the state of Michigan."
As the leader of the House what is the hold up?   Why can't we get HB 4192 passed out of the House Competitiveness Committee and through the House as well?   I know the standard answer is that it is up to the committee chair to get it out first.  I've heard it many times.  Your office told me that today.  Wink wink nod nod.   We both know that if you want this bill out of committee it will get out of committee.
Speaker Leonard, your email accurately characterized the mood of the electorate.  We are tired of smooth talking politicians who make great promises.   Prove that you are a different kind of politician and follow through on this isuse.    We're holding you accountable….just like you asked us to do.
Contact Speaker Leonard and let him know you want to see HB 4192 passed as written.
Phone: (517) 373-1778
TomLeonard@house.mi.gov