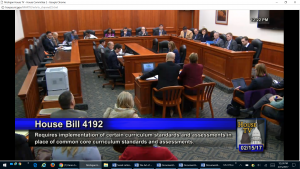 In a previous post, Melanie Kurdys wrote about the possibility of a "fake" repeal or a "rebrand" of Common Core based on rumblings around the Lansing about HB 4192.  Kurdys concern appears to be more than idle speculation considering a recent interview with MI House Speaker Leonard and what happened to a similar bill in West Virginia.
MI House Speaker Leonard
MI House Speaker Tom Leonard was asked in an impromptu interview after a recent legislative session about his support for repealing and replacing Common Core.  Video was posted of the session on the Michigan GOP House Facebook page.   The question comes at the 1 hr 11 min mark:
Reporter Mike: (Inaudible question about repealing Common Core)

Speaker Leonard said, "I am one who has been a strong opponent of the Common Core standards.  I am one who voted against the Common Core resolution that was voted and passed out of the House three or four years ago.  I have not had an opportunity to sit down to review with Rep. Glenn this legislation. I will do so if it passes out of committee.  I am certainly an opponent of the Common Core standards and we'll see where this goes.

Reporter Mike:  And replacing them with Massachusetts?

Speaker Leonard:  Again, we'll let the committee do their work and we'll see what that standard is.   I am a strong proponent of (inaudible) repealing Common Core in the state of Michigan.
Stop Common Core in Michigan leaders reached out to Speaker Leonard for further clarification.  We will update the post if more information becomes available.
We are very glad to hear Speaker Leonard's firm stance against Common Core.  Further, his desire to wait until the bill comes out of the Michigan Competitiveness Committee is understandable and prudent. However, Leonard's statement to see what standard comes out of committee is interesting given the language of the bill.  HB 4192 repeals Common Core, science, social studies, and assessments and replaces them with the proven Massachusetts standards. Leonard's comment appears to leave open the idea that another standard or no standard could be permitted.   Since no other standard has been suggested, is Speaker Leonard hinting that there could be a repeal but NO replacement that may come out of committee?   That brings us to West Virginia.
West Virginia
Parent activists in West Virginia were outraged as a strong bill, SB 524, to repeal and replace Common Core was amended by WV Senate Republicans to remove the replace portion of the bill.
The legislators succeeded in altering a bill that would have replaced the rudimentary Common Core standards in the state with the highly acclaimed 1997 California math standards and the equally celebrated 2001 Massachusetts English and Language Arts (ELA) standards.

SB 524 now no longer requires the state to adopt any new standards, but still says the state Board of Education is "prohibited from implementing Common Core academic standards."

State Sen. Robert Karnes, a Republican and a sponsor of the original measure, actually suggested the amendment to the bill that removed the adoption of the California and Massachusetts standards. Another of Karnes's amendments changed the date West Virginia would be "prohibited from implementing Common Core academic standards" from July 1, 2017, to July 1, 2018.
The amendment to drop the replace portion came after intense pressure was put upon the Senate.  The argument to remove the replace centered around the idea that the MA and CA standards are old and out of touch.   The WV Senate removed that portion in order  to keep the bill alive and move it to the House of Delegates.  Karne stated, "Not dead is better than dead."  The actions of the West Virginia Senate have outraged activists who now feel betrayed.   We, the team at Stop Common Core, understand.
Michigan HB 4192 has a similar repeal and replace bill provision.  We are watching and learning from what is happening in other states. like West Virginia to prevent the same thing from happening here. For us, a dead bill is better than an amended bill that allows Common Core to stay alive in Michigan schools.